So you want to chart some drum songs huh? This tutorial will show you how to chart four lane drums on feedback as well as charting expert+ and pro drums using EOF. This is in no way the be-all end-all best method of charting, but it has worked best for me and may help you.
If you only get one thing from this tutorial, it should be to keep trying! What is most useful is experience. Don't get frustrated, you'll start slow but your charting abilities will grow quickly. Soon, you'll be able to chart drums for any song you want.
Useful Reading
1.
Rock Band Drum Tutorial
2.
Feedback Tutorial
3.
FoFiX Song.ini Instructions
4.
FoFiX Midi Sections for Drums
5.
Puppetz Advanced Song Tutorial Part 1
6.
Puppetz Advanced Song Tutorial Part 2
7. EOF Manual (Open EOF, go to Help -> Manual)
8.
The Parts of a Drum Set
Program Downloads
1. Feedback or "db" (
version 0.93b
) or (
version 0.96b
)*
2.
Audacity
3.
ArBPM
or an
online BPM Finder
4. Optional
basic empty ini
5.
EOF
*I recommend version 0.96b, however, some songs may require 0.93b if you are experiencing errors while charting.
1. Preparation2. Finding BPM3. Matching the song to the BPM4. Charting your song5. Converting and Creating your Song Folder6. Presenting a polished finish7. Song.ini Information8. Using EOF for Pro, Solos and Star Power9. In-Depth Drum Charting10. Tips and Tricks11. FAQ
1. Preparation
1.1
Choose a song. If this is your first time, try to pick something with a simple beat and loud drums. You can try to find songs that are just drums (a google search for free drum songs would be useful). You may also consider choosing a song that has already been charted on guitar by a precise charter because the BPM mapping will already be finished. Doing so is good practice to focus on just charting the drums instead of trying to chart BPM as well.
1.2
You'll need to convert your song file into an .ogg if it is not one already. Open
Audacity
Choose File -> Open and find your song you'd like to chart. Once it has loaded, go to File -> Export as Ogg Vorbis... and save the file into the
Feedback
"Songs" folder. Wait for the song to finish converting, then you may close out of Audacity.
Tip: You may want to add a second of silence to the beginning of the song in case the drums begin immediately. This will give you some room to make sure the first drum note is perfectly synced. You can do this by opening the song in Audacity and clicking at the beginning of the song. Then go to Generate -> Silence and type in 1-5 seconds, whichever works best for you.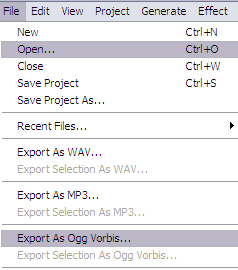 2. Finding BPM
2.1
Do not be discouraged if you have difficulties with BPM. It is something that many charters struggle with, and comes with time and practice. I find using
ArBPM
is easiest. Open
ArBPM
and then begin playing your song. Tap any key on your keyboard to the beat of the song, and
ArBPM
will begin calculating the BPM, which will be indicated on the program by the letters "ArBPM" lighting up.
While tapping, make sure you remain consistent and don't miss any beats. After tapping for about 10-30 seconds, your calculated BPM should remain fairly constant. This will be the BPM value you will begin with. (Tip: Press ESC on your keyboard to reset ArBPM).
As a rule of thumb, any BPM calculated over 200 should be divided by 2 to allow for better accuracy in note placement.
Alternative BPM Finding
Requires:
http://www.mixmeister.com/bpmanalyzer/bpmanalyzer.asp
2.1b
Basically, you would use MixMeister to find the BPM for your song. This program is one of the more accurate ones out there. Make sure your song is in mp3 format and select the folder that it is in with the program, and it will tell you what the BPM is for the song. It sounds great, but for songs with dynamic BPM you'd be lost. Also remember that there are many minor BPM changes that effect the sync of your song greatly, so use this method carefully. I do not personally recommend this program, but other charters have been known to use it.
3. Matching the song to the BPM
Reminder: Press F8 in feedback to go to the drums part. Shift+F1, F2, F3, F4 brings you to easy, medium, hard and expert parts of drums.
3.1
The drummer will likely not follow the BPM exactly. Some measures are played slightly faster and some slightly slower, so you'll have to modify the BPM throughout to make up for this. This is where the CLAP and METRONOME features become invaluable.
3.2
You will want to make sure the first note is perfectly synced. Set the BPM before the first note so that the note is exactly on the thickest beatline (that will mark the beginning of a measure. The BPM does not have to be the BPM you found earlier, this is only to set the first note.)
3.3
After your first note is placed, place an anchor on that measure ("A" on the keyboard). Change the BPM to the value you found earlier (using "+" and "-" keys). This should be roughly the BPM that this section of the song stays in. Place notes corresponding to the beat of the song like so:
3.4
Turn on CLAP ("N") or METRONOME ("M") and make sure the proceeding notes are on beat. If the notes of the measure occur before the metronome/clap sounds, then you'll lower the BPM. If they occur after the metronome/clap, then turn up the BPM.
Note that the separation of the metronome/clap accuracy to each note will be gradual - not every note will be an equal distance from the metronome/clap, but will gradually end up further and further from the clap/metronome sound if the BPM is not correct.
I recommend placing notes on where the loudest notes will occur, for example, if the snare plays on measures 2 and 4 for the song, you would place the notes for claps instead like this:
The loudest notes will be easiest to sync correctly with the metronome/clap. You can anchors every measure for notes that you are certain are synced well.
You may choose not to place anchors (read the Feedback manual on anchors for more information).
BPM syncing is arguably the hardest part of charting. Just keep at it and remember to make small changes in the BPM if its appropriate for better accuracy. It is what makes or breaks your chart.
4. Charting your song
4.1
This part takes practice and experience. You won't get it right your first time, but with practice your ear will be trained to differentiate between open and closed hi-hat, ride cymbal and crash, tom 1 and tom 2 etc. This is a general rule of thumb for charting drums:
Green Lane 0: Bass. Just bass.
Red Lane 1: Snare
Yellow Lane 2: Hi-hat, Tom 1
Blue Lane 3: Open hi-hat, Ride, Tom 2
Green/Purple Lane 4: Crash, Tom 3
There are many exceptions which are discussed in section 8: "In-Depth Drum Charting"
4.2
This may be inherent, but you simply place the notes in the correct lanes corresponding to what the drummer plays!
See 8. The Parts of a Drum Set to hear how each part of a drum set sounds.
5. Converting and Creating your Song Folder
5.1
You've now beat-synced and placed all the notes to your song. You now have an .ogg and .chart file in your feedback/songs folder. Create a folder titled "Band - Song Name" with the info of your song and place both files into that folder. Rename the .ogg to "guitar.ogg" (regardless of what instrument you charted).
5.2
Open
EOF
and go to File -> Feedback import and find your .chart file. After your chart has successfully loaded, go to File -> Save. A "notes.mid" should now appear in your song folder.
5.3
Now that you have a guitar.ogg and a notes.mid, all you now need is a song.ini. You can download this:
basic empty ini
and fill in the information of that with your song information (which can be found from wikipedia or wherever).
Your song is now finished in the basic sense, and is playable! You can play the song in FoFiX as it is now. You can also add a few extras to make the presentation of your chart really shine.
6. Presenting a polished finish
6.1
You played your song, maybe some parts felt a little off, some notes you realized were wrong, so you change them.
You've got all the song.ini information filled out, and even included and interesting loading phrase.
Look for more song.ini features in Section 7: "Song.ini Information"
6.2
You will now need an "album.png" to accompany your song. Using Google images or something similar, find the album cover for the CD the song was released on. If the picture is not a .png, you'll need to convert it. Open the file in paint or a similar program, and save the file as a PNG. Rename it to "album.png" and place it your song folder along with the notes.mid, guitar.ogg and song.ini. Don't worry about the size, but generally album.pngs should be around 200x200-500x500 and be basically square. It will be resized in FoF, so there's no need to be exact.
Further advancing of your chart is explained in the following sections.
7. Song.ini Information
7.1
If using FoFiX:
Song.ini Instructions
8. Using EOF for Pro, Solos and Starpower
When adding pro, only use your expert+ midi if you made two separate midis for expert and expert+. You will notate in the chart which bass notes are expert+ and this information will be saved on the notes.mid file.
8.1
So you still decided to go through with Feedback until this point and you're stuck. Feedback doesn't support pro charts! Now you're left in the dust while everyone uses this new-fangled EOF and you're a stubborn traditionalist and you don't like change! Well here's a nice thing: you can still chart just as much as you have in feedback, then open the chart in EOF. Just think of it as an extra tool, not a new editor.
So we're going to use a chart that's already been converted to MIDI. So grab one of your old charts, and we'll add pro to that.
8.2
Go to File -> MIDI Import and select the "notes.mid" from any of your old songs. Go to Song -> Track -> PART DRUMS to display your drum chart.
8.3
Find the first part of your song with cymbals. Select all the notes in a section that contains cymbal notes only, and go to Note -> Toggle Yellow Cymbal. The notes will change from circles to triangles, indicating that they are now notated as cymbals. Continue through your song changing the appropriate blue, green, and yellow cymbals to cymbal notation. Make sure you don't notate any toms incorrectly!
Note: The green cymbal lane may be referred to as "purple" in the EOF manual or otherwise.
8.4
Your result may look something like this:
(Tip: There are keyboard shortcuts to change notes into cymbals, it can make the process go a lot faster)
8.5
So you go through and make all your cymbals into triangles right, but you've still got that double bass! Easy! Simply select all the notes you want to only show in expert+ difficulty (no easy way but to hold control and select one by one) and then go to Note -> Drum -> Toggle Expert+ bass drum. All expert+ notes are marked by a red dot in their center instead of a white one, and appear red on the 3D display. This shows a chart halfway converted to expert+ notation:
8.6
Now you're all pro notated. You can now add Starpower sections to your chart (this is required for FoFiX to read solo sections among other things). To add a starpower section, simply highlight several notes (usually an entire measure) and go to Note -> Starpower -> Mark. The section will now appear silver to indicate that it is a starpower phrase. As a general guideline for starpower placement:
Easy - Put starpower every 5 - 7 measures.
Medium - Every 6 - 8 measures.
Hard - Every 9 - 11 measures.
Expert - Every 10 - 15 measures.

In parts of the song that are more difficult, you may place more starpower phrases. Try to keep starpower phrases under 2 measures long, after that it's just silly.
Solos and BRE8.7
To add BRE, or fills, to your song, simply open the BRE tab while PART DRUMS is open in EOF. Add a 5 lane sustained note over the area in which you'd like a fill to be. It will look something like this:
8.8
To add a drum solo to your chart, highlight the section you wish to make a solo, and go to Note -> Solos -> Mark. The section should now be covered in a blue highlight. You will have to add a Text Event to be sure that the solo will activate in FoFiX. To do so, click on the arrow in EOF above the note that marks the start of the solo. It will change to display the BPM at that beatline. Then go to Beat -> Events. Click "Add" and type in "solo_on". Click "done". Now, go to the last note that marks the end of the solo, highlight the arrow above that beatline, and open Beat -> Events. Click add, and type in "solo_off". Now your song has a solo!
8.9
FoFiX will automatically generate practice sections for your song every 15 or 30 seconds if you have no events named. But if you'd like your chart to have named practice sections like Guitar Hero or Rock band, you can. To define a Practice mode section, simply add a text event to the beat where you want the section to start and name it "section whatever" where "whatever" is replaced with the name of the section as you want it displayed in the game.
9. In-Depth Drum Charting
Lane 0
Always bass. Never anything else. Don't try to be creative.
Lane 1
Almost always snare. In the case of Rock Band, charting quick hi-hat on lane 1 is appropriate, which is called a "disco-flip". Also, in the event that no snare is being played but four or more toms are, then it is appropriate to chart lane 1 as Tom 1. This is also appropriate if you are charting other miscellaneous percussion, such as bells or tabla, and there are four or more pitches being played.
Lane 2
Specifically, it is primarily
closed
hi-hat. In a situation where the drummer plays mostly closed hi-hat, then open hi-hat is charted on lane 3, and closed on lane 2. If the drummer is playing all open hi-hat, then it is appropriate to chart all open hi-hat on lane 2. Tom 1 or Tom 2 is also primarily charted on lane 2. In some cases, if there are multiple cymbals being played, lane 2 can be used as a substitute for one of these cymbals. For example, if the drummer was playing all ride cymbal, and played china as well as crash in the section, then lane 2 would be appropriate for the china cymbal.
Lane 3
Primarily focused on Ride Cymbal and Tom 2. As stated previously, lane 3 is also used often for open hi-hat. If there are limited toms for a song, then it is appropriate to place Tom 1 in lane 3 first, rather than charting it in lane 2. Basically, if there was just closed hi-hat, snare, tom 1 and crash, then it would make perfect sense to chart tom 1 in lane 3 rather than lane 2. This lane should also be the primary use for tabla, cowbell and other miscellaneous percussion, if the drummer is playing it.
Lane 4
Primarily for crash cymbal, and often used for tom 3 or 4. Green lane 4 is where most of your miscellaneous cymbal action should go. If any cymbal besides Ride or Hi-hat is being played, it should be first considered on lane 4. Ride cymbal can be charted on lane 4 on occasion, if blue and yellow are being used frequently without any other cymbals in play.
Special Occasions
Pedal Hi-hat
- If the song is complex, don't chart it. Personally, I chart it if it is loud enough to hear clearly, as long as it doesn't make the song overly difficult. Not charting it at all, even when it is the only noise present, is entirely appropriate.
Tom and Snare
- Usually you would want to place toms to their pitch with the snare, but it is fairly common to chart tom+snare on lanes 1 and 4 regardless of the pitch. This is something I've noticed, but do not agree with. If the tom pitch changes, obviously you must chart the correct toms with snare.
Loud Crashes
- If you hear cymbals being hit especially loud, it is appropriate to place a note in yellow lane 2 alongside the crash. This adds the feeling to the player of playing the cymbals especially hard. Placing the note in blue lane 3 would be appropriate as well.
Flams
- If the flam is very tight, and it sounds like one hit, or very close to, it is appropriate to chart the flam on two different lanes. If it is looser, and can be heard as obviously 2 hits, then it should be charted twice quickly on the same lane - though both methods of charting can be used for either situation.
I WILL be open to specific questions on what to chart for a certain song. If you have a song you know whats being played but you aren't sure what lanes the notes should go, I will help.
10. Tips and Tricks
One way to ensure your notes' accuracy, especially useful for beginners, is to use Audacity to your advantage. Most useful for the first note in the song. When a note begins, it is the loudest. Notice the peaks in Audacity, and when you play the song you'll notice thats when the note begins. If you place the marker on the peak and look at the bottom, audacity will tell you exactly when that noise occurs. Then you can make sure the note is occuring at the same time in Feedback.
Try charting a song that has been synced for you if you have trouble with BPM. That's how I started, and I noticed when my songs got off I would change the BPM to what I wanted. Transitioning into creating my own BPM was extremely easy afterwards.
Checking youtube videos of the drummer, or some accurate covers, can help you figure out what exactly is going on in the song, especially if its a noisy one. Downloading pre-made midis and tabs have never worked for me, but may be useful for the same reason, though you should never trust their charting entirely.
Make sure you have a good knowledge of the editor(s) you are using.
11. FAQ
1.
I get a "Not a Valid Music Stream" on Feedback when I try to choose my song file?
I'm not sure why Feedback does this. Make sure you have converted your song into an .ogg file before opening it in Feedback to avoid this problem.